Weeping Scholars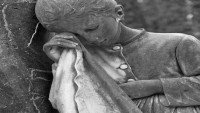 "Our hearts of stone become hearts of flesh when we learn where others weep". ~ Brennan Manning
To have a sympathizing God we must have a suffering Saviour, and there is no true fellow-feeling with another save in the heart of him who has been afflicted like Him.

We cannot do good to others save at a cost to ourselves. Our afflictions are the price we pay for the ability to sympathize. He who would be a helper, must first be a sufferer. He who would be a saviour must somewhere and somehow have been upon a cross. We cannot have the highest happiness of life in succouring others without tasting the cup which Jesus drank, and submitting to the baptism wherewith He was baptized.

The most comforting of David's psalms were pressed out by suffering.
The present circumstance, which presses so hard against you (if surrendered to Christ), is the best shaped tool in the Father's hand to chisel you for eternity. Trust Him, then. Do not push away the instrument lest you lose its work.

Strange and difficult indeed we may find it, but the blessing that we and others need Is behind it.
The school of suffering graduates rare scholars. ~ anonymous
"The cup which my Father hath given me, shall I not drink it?" (John 18:11)
Great faith is exhibited not so much in ability to do as to suffer. ~ Dr. Charles Parkhurst
Today's Soul Snippet:
'Blessed are the poor for they shall escape the corruptions of earth'. ~ Michael Cartwright