What Gift Never Arrives Alone?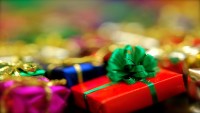 Gifts should frequent and delight all lives.
They can be a lowered draw-bridge to join the gap of troubled relationships.
Mankind's widest gap is from his creator.
... But God does not create gaps, He closes them with a draw-bridge.
God's bridge is too cloaked in an eternal wrapping paper emblazoned with just two simple words - ABUNDANT GRACE.
For if, by the trespass of the one man, death reigned through that one man, how much more will those who receive God's abundant provision of grace and of the gift of righteousness reign in life through the one man, Jesus Christ. (Romans 5:17)
Abundant grace is accompanied by the gift of righteousness. Grace and righteousness are glued forever.
All this is for your benefit, so that the grace that is reaching more and more people may cause thanksgiving to overflow to the glory of God. (2 Corinthians 4:15)
Abundant grace issues in abundant thanksgiving, and therefore glory to God.
The grace of our Lord was poured out on me abundantly, along with the faith and love that are in Christ Jesus. (1 Timothy 4:14)
Grace is a gift that never arrives alone. It is the partner of generosity.
Grace equips; enabling me to righteousness - that my body, soul and spirit may travel the light path of obedience, faith and love.
Grace leaves no sin of life nor error of soul uncovered, for there is no gap too wide that grace is unable to fill. It is abundant.
A heart sunk in grace's abundance, is a heart floating on its forgiveness.
Today's Soul Snippet:
To pay the price of obedience is to escape the cost of disobedience. ~ anon
Love this SoulSnack - PLEASE don't keep it to yourself? Would you like to subscribe for free SoulSnacks either weekly or each workday?