Why The Sheep Flee!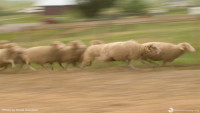 God's shepherd has undertaken care of the sick, not tyranny over the healthy. (St. Benedict)
Rick Warren - the godly lead pastor of Orange County mega-church, 'Saddleback', taught last century that a church's task is to turn an audience into an army. As too then a pastor I grasped this sage call with both hands, along with another million or so other pastors in the pentecostal and evangelical Christian world. But has this now gone too far?
Approaching four decades on I now see some disturbing results, yet mea culpa remains completely true.
All that glittered has proved again that all is not gold.
Three questions I must now shamefacedly ask:
Do shepherds really create armies, or do they tend flocks?
Are shepherds generals, or graziers?
Do shepherds whip sheep, or carry them?
Care of the flock, the cure of the soul, has been (still is) sacrificed upon an ever-increasing false altar of duty-filled activism.
The primary quality of any pastor is first love of his people, not love of his programs.
Protecting the flock from wolves and feeding the flock fine dining has been replaced with lashing the flock to action. A good shepherd leads the flock from the front, he doesn't shove them from the rear. (See John 10:4)
If your church shows you law while your heart screams for love, you are in a court not a church. (Michael Cartwright)
Good leadership echoes the apostle Paul and only invites - follow me to Jesus.
It is the poor managers (these are not leaders) who get behind the flock and order CONFORM - my way or the highway!
When there is no building up (edification) in your church neither should you be in church.
Pulpits still pit Christian activity to congregations against any opportunity to nurture and care for the flock.
Of the pulpit I now wonder did I too fail? For:
Who speaks God's heart accurately? (Wayne Jacobsen)
Our Father in heaven both judges the shepherds and laments when He wrote:
My sheep wandered over all the mountains and on every high hill. They were scattered over the whole earth, and no one searched or looked for them. (Ezekiel 34:6)
SO - under the whip, the sheep will flee, they are scattered.
Feeding, not flagellation, is the shepherd's Divine call. Good shepherds first refresh the body and nurture the soul.
And David shepherded them with integrity of heart; with skilful hands he led them. (Psalm 78:72)
Today's Soul Snippet:
'The eyes of the Lord honor those the eyes of man don't.' ~ 2 Chronicles 16:9a (a SoulSupply paraphrase)
Also in this series ~ Unsettling Proposals for the Christian Church, When Church Hurts and Stirring 9 Reformed Sensibilities
ENJOY too ~ Shaking a Sacred Tree
Did you find this SoulSnack helpful? Would you like to subscribe or forward it to a friend?