Winning even if life feels like losing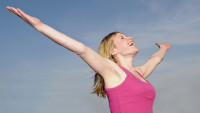 Blessed are those who endure through faith the heartaches and hardships of this life...
Blessed are those who do not depart the Lord's presence despite persecutions...
Blessed are those who issue no charges of blame against Heaven, though their heart tears and their eyes flood...
for these who stand strong - the Kingdom of God both now and forever belongs to them.
Consider these two verses, could they be the Bible's best?
This is the wonder that awaits those who overcome:
And I heard a loud voice from the throne saying, 'Look! God's dwelling-place is now among the people, and he will dwell with them. They will be his people, and God himself will be with them and be their God. "He will wipe every tear from their eyes. There will be no more death" or mourning or crying or pain, for the old order of things has passed away.' (Revelation 21:3-4)
This earth is our hotel, it is not our home.
Today's Soul Snippet:
"We can stand affliction better than we can prosperity, for in prosperity we forget God." ~ D.L Moody
Love this SoulSnack - PLEASE don't keep it to yourself? Would you like to subscribe for free SoulSnacks either weekly or each workday?
ENJOY ~ 5 Bible Tips to Hang in There