6 Words that Change the World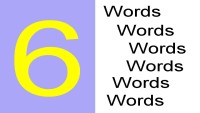 Two rulers knew the life-giving power of correct words.
Two leaders became mighty men for they were concerned to know God's ways first, not their own. Life and leadership for them was not:
it's my way or the highway!
Moses to this day is recorded as the humblest man upon all the earth. He appeared before Jesus at the transfiguration and of course first led the exodus of Israel from Egypt to their promised land.
The family line of King David will always have a king seated from it, traced through to Jesus.
Both Moses and David's achievements resided in this soul-liberating and simple six word prayer:
teach me your way O' Lord.
Moses - If you are pleased with me, teach me Your ways, so I may know You and continue to find favor with you. ~ Exodus 33:13
King David - teach me your way O' Lord and lead me on a straight path ~ Psalm 27:11
King David - teach me your way O' Lord, and I will walk in your truth; give me an undivided heart that I may fear your name. ~ Psalm 86:11
Righteous men pray righteous prayers, and so leave righteous legacies.
As 2017 dawns would you too pray with me all year:
teach me your way O' Lord?
(These six words may at least change your world.)
Today's Soul Snippet:
My soul thirsts for You like a parched land. ~ Psalm 143:6b
Permission is granted (and you are also encouraged) to reprint SoulSnacks in hard copy form, using them for Bible Studies or other Christian forums, as well as sending them to your own email lists and posting them on your own websites. SoulSupply asks only that you keep the SoulSupply website and email contact information intact.
Love this SoulSnack? - PLEASE take a moment and share it with a friend. Would you like to subscribe for free SoulSnacks either weekly or each workday?