8 Top Hudson Taylor Quotes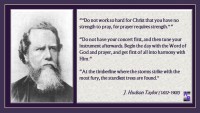 Was Hudson Taylor (1832-1905) truly a man after Jesus' own heart, seeking only His Lord's interests first?
At 21 sailed from England on a slow boat to China. In an instant he was confronted the six day terror of a storm torn Irish sea.
As the son of a pharmacist, and having gained medical training he forsook a bright and comfortable future at home.
Also by 21 Hudson had lost in love - twice. His first love was forbidden to marry him, and then the second refused his proposal. She would countenance no home in China.
Hudson persistently placed the affairs of his heart second to the interest of his savior.
In March 1854 he landed in a China devastated by the Taiping rebellion
Hudson Taylor lived as a humble and frail man, familiar with sickness.
He knew no confusion of faith, and practised no compromise for his Jesus, his Christ.
He lived as he wrote:
God looked for someone weak enough to use and found me.
God's work done in God's way will never lack God's supply.
China is not to be won to Christ by quiet, ease-loving men and women.
All our difficulties are only platforms for the manifestations of God's grace, power and love.
When I cannot read, when I cannot think, when I cannot even pray - I can trust.
A little thing is a little thing, but faithfulness in little things is a great thing.
The sun has never risen on China without finding me in prayer.
There are not two Christs - an easygoing one for easygoing Christians, and a suffering, toiling one for exceptional believers. There is only one Christ.
Not long before he died he addressed a new group of young missionaries. They had recently arrived in China. He began his teaching with:
you do not know what lies before you. I give you one word of advice - walk with the Lord! Count on Him! Enjoy Him! He will not disappoint you! For 40 years I have made it the chief experience of my life to cultivate a personal relationship with the Lord Jesus Christ. That is the missionary's and any believer's most important task and joy.
We must go through many hardships to enter the kingdom of God. (Acts 14:22b)
During the evening of June 3, 1905 this great man of God met his Lord. Upon his headstone is engraved:
A man in Christ.
Today's Soul Snippet:
Anger is attempting to control another without controlling yourself. ~ Michael Cartwright
ENJOY too - 10 Top J.O. Fraser Quotes, 8 Top C.T. Studd Quotes & 8 Top Count Zinzendorf Quotes
Love this SoulSnack - PLEASE don't keep it to yourself? Would you like to subscribe for free SoulSnacks either weekly or each workday?