Above the Tags, Bags & Rags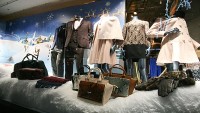 Christmas purchases account for 1/6th of all annual retail sales in the U.S.
Masses of devotees are dedicated to addictive shopping. It is largely devoid of any teamwork.
There is a lingering aftertaste to the 'recreation' of shopping. It is conducted at a mixed cost, maybe even an extravagant one. That is the nature of shopping, especially Christmas shopping.
Yet above the tags, the bags and the rags there is also the priceless.

The priceless is readily available without a bus trip, credit card or sore feet. This item is as valuable as it is superior.
It cannot be bought or traded, for such is the nature pricelessness.
It fails to discriminate and is not just found in the pocket of the prosperous.
The beggar may well own more than the baron, for what is priceless is found in the heart.
It is never on special and has a life-time warranty. Even I can afford it, find it and then give it.
How priceless is your unfailing love! Both high and low among men find refuge in the shadow of your wings. (Psalm 35:7)
Above all the Christmas tags, bags and rags hangs priceless, unfailing love.
Today's Soul Snippet:
'It is better to dwell in the house of a pauper with peace, than live in the courts of a king with strife.' ~ Michael Cartwright
Love this SoulSnack - PLEASE don't keep it to yourself? Would you like to subscribe for free SoulSnacks either weekly or each workday?