As Flowers to the Soul#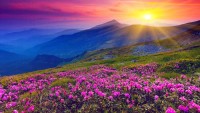 Skilled at removing distraction the Puritans knew how to pray. Charles Spurgeon (1834-92) is regarded to this day as the last of the great Puritans.
Their prayers are as flowers to the reader's soul. These prayers are as humble as they are considered. Each expressed the spiritual sight of a puritan's heart.
O Lord, high and holy, meek and lowly,
Thou hast brought me to the valley of vision, where I live in the depths but see thee in the heights; hemmed in by mountains of sin I behold thy glory.
Let me learn thy paradox:
that the way down is the way up,
that to be low is to be high,
that the broken heart is the mended heart,
that the contrite spirit is the rejoicing spirit,
that the repenting soul is the victorious soul,
that to have nothing is to possess all,
that to bear the cross is to wear the crown,
that to give is to receive, AND
that the valley is the place of vision.
Lord, in the daytime stars can be seen from deepest wells, and the deeper the wells the brighter thy stars shine.
Let me find thy light in my darkness,
thy life in my death,
thy joy in my sorrow,
thy grace in my sin,
thy riches in my poverty, AND
thy glory in my valley. Amen#
Today's Soul Snippet:
'Many lovely things pass out of life when jealousy comes in.' ~ anon.
Love this SoulSnack - PLEASE don't keep it to yourself? Would you like to subscribe for free SoulSnacks either weekly or each workday?
#Today's SoulSnack is reproduced from:
Arthur Barnett (editor), The Valley of Vision: A Collection of Puritan Prayers & Devotions (Edinburgh: The Banner of Truth Trust, 2017), xv