Birthing Something Better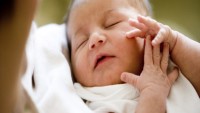 It is both a great and troubling thing to follow Jesus, to name Him as Lord. But many have, many do, and many more shall. They have rightly accepted a passing season of distress in exchange for the Father honoring those who will serve His Son - Jesus the Christ.
Truly, truly, I say to you, unless a grain of wheat falls into the earth and dies, it remains alone; but if it dies, it bears much fruit. Whoever loves his life loses it, and whoever hates his life in this world will keep it for eternal life. If anyone serves Me, he must follow Me; and where I am, there will My servant be also. If anyone serves Me, the Father will honor him. (John 12:24-26)
1) "There was a day when I died, utterly died; died to George Muller and his opinions, preferences, tastes and will; died to the world, its welcome or censure; died to the approval or blame of even my brethren and friends; and since then I have studied O N L Y to show myself approved to God." ~ George Muller.
2) "To mean it when I say that I want my life to count for His glory is to drive a stake through the heart of self - a painful and determined dying to me that must be a part of every day I live." ~ Louie Giglio
3) "I made Myself of no reputation." ~ Jesus the Christ
There is a humbler grace I must pray for, that I may see what impedes me. And a further grace to beg of God, that my heart may be strong to sow the harvest.
When anything of us dies in the service of God, something better is born. A disciple cannot say 'I did it my way'. ~ anon
Today's Soul Snippet:
"One thing you can give and still keep is your word." ~ anon
Love this SoulSnack? - PLEASE take a moment and share it with a friend. Would you like to subscribe for free SoulSnacks either weekly or each workday?