Of Hazy Days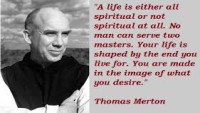 French born, Anglican baptised, American Catholic Trappist monk Thomas Merton died prematurely in 1968 at the tender age of 53. He penned the soulful prayer below.
Surely there is a sense of correct Christian propriety in its reflections at this New Year season? I suspect that the very first sentence is especially poignant given his early death.
My Lord God, I have no idea where I am going. I do not see the road ahead of me. I cannot know for certain where it will end. Nor do I really know myself, and the fact that I think I am actually following your will does not mean I am actually doing so.

But I believe the desire to please you does in fact please you. And I hope I have that desire in all that I am doing. I hope that I will never do anything apart from that desire. And I know that if I do this you will lead me in the right road though I may know nothing about it.

Therefore I will trust you always though I may seem to be lost and in the shadow of death. I will not fear, for you are ever with me, and will never leave me to face my perils alone.
May the words of my mouth and the meditation of my heart be pleasing in your sight, O LORD, my Rock and my Redeemer. (Psalm 19:14)
Merton confidently lived the hazy days of insecurity and uncertainty, clearly his trust was never in himself.
Despite the struggle for direction Thomas Merton pursued no self-will. He refused to hinder God's way.
Today's Soul Snippet:
"Jesus comes to feed you but satan comes to fool you." ~ Michael Cartwright
Love this SoulSnack - PLEASE don't keep it to yourself? Would you like to subscribe for free SoulSnacks either weekly or each workday?