Orphan Tim's Story#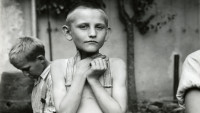 Tim lived life in an orphanage. He was a bright and friendly little bloke. Daily he headed downstairs, collected the kitchen's bread basket and skipped into town to collect the bread for his orphanage.
The baker was a lady named Miss Warby. She had strong arms and powerful hands from much heavy work. People in the town described her as plain, but Tim saw her beauty. She wore the kindest smile and softest eyes.
Tim often wondered what his mum would be like. He expected she would be like Miss Warby.
Sometimes she would give Tim a small treat to enjoy as he waited politely on her flour stained stool. 'Just a little leftover' she would say, but Tim knew she had really made it just for him. He loved their chats while she finished the baking.
Only one hint was present the morning his orphanage burnt down. Miss Warby glanced at her watch more than once as she waited for little Timmy to push through the door. She had finished the order, still he had not arrived. Timmy was never late. When the street vendor bolted past the shop yelling 'fire', Miss Warby panicked and ran. Her sixth sense knew it was the orphanage; little Timmy was in trouble. She raced out the shop's door, slamming it too hard behind her - not hearing the glass shatter.
At the orphanage Timmy was the first person she saw through the flames. His room was two stories up. Tim hung out his window bellowing and crying 'help' between his gasps for breath.
'Too high to jump - too long to wait for a ladder,' a voice screamed inside Miss Warby's head.
She grabbed hold of the downpipe that ran past Timmy's room and shinned her way up at a surprising pace. Tim was not heavy but she was near exhaustion, as she motioned with her head for him to climb onto her back. Miss Warby slipped with little dignity down the pipe. It was hard going. The pipe was superheated from the fire. She left much skin of her palms behind as they slid down.
Weeks later the townspeople gathered to decide new directions for the unplaced orphans. Most already were in a permanent home, but Tim and a handful of others weren't.
On the announcement of government financial assistance for placements, Mr Thatcher declared that he had a spare room. He had children of his own and that one more mouth to feed would be no issue. Mrs Simpson also offered her mansion's guest room on the hill overlooking the town. Arguments ensued. In the end Miss Warby's booming voice echoed with authority from the hall's doorway - 'I will take Timmy'.
There were a few hurrumps, guffaws and whispers behind clasped hands, as they questioned the suitability of placing a young boy with a spinster who 'would not have the first clue about raising children'.
"What can you offer the boy, Bridgette?" enquired the mayor to Miss Warby.
Miss Warby lifted her bandaged hands still painfully weeping from her skin grafts, and stretched her palms outwards and upwards.
'Only these' she said and then folded them across her heart.#
God knows our every thought, He hears our every word before they pass our lips, He watches our every action, but it is the heart He delights in.
God does not seek qualifications or even experience - only willing, loving hearts.
'The King will reply, "Truly I tell you, whatever you did for one of the least of these brothers and sisters of mine, you did for me." (Matthew 25:40)
Today's Soul Snippet:
"There is no tongue love cannot speak, or disability it cannot touch."
Love this SoulSnack - PLEASE don't keep it to yourself? Would you like to subscribe for free SoulSnacks either weekly or each workday?
#This story is graciously penned and provided by Dr Stuart Quarmby, Principal - Wollondilly Anglican College