Should the Fields be Barren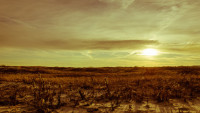 Languished long in empty service?
Sown for an eternity among thorns?
Lamented visible loss, and the failure to birth spiritual sons and daughters?
Relationship with Jesus is God's divine fertilizer in all Christian service. But, even then, the devoted servant may still feel he sows a barren ground.
Devote to the Lord of the fruit alone, and not to the fruit.
He only is the creator of the fruit, the equipper of success. One man sows and another reaps.
Remain in me, as I also remain in you. No branch can bear fruit by itself; it must remain in the vine. Neither can you bear fruit unless you remain in me. I am the vine; you are the branches. If you remain in me and I in you, you will bear much fruit; apart from me you can do nothing. (John 15:4-5)
It is my strongest suspicion that fruit bearing is first planted from travail on the knees, and not from travail on the feet.
When Jesus squarely holds the heart, will He not squarely give His hands?#
PS - for those who do bear fruit but are unlikely to see it - enjoy this brief heart-lifting story of Dr William Leslie from the Democratic Republic of the Congo over a century ago.
Today's Soul Snippet:
"Greed is to not believe that God cares for you, and to despise His promises." ~ Abba Isaiah
Would you like to subscribe or forward this SoulSnack to a friend?
Read about the sowing of new fields in "GREAT MERCY" - Part B ... Fresh Fields