Show Me Your Glory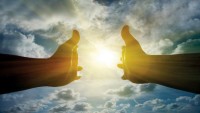 Scripture records Moses with an exceptional honor, as the most humble man upon the face of the earth. Even in his deepest distress Moses sought God's glory before he sought relief. As this octogenarian ended his struggle with God in the Tent of Meeting Moses requested:
Now show me Your glory. (Exodus 33:18)
Dear Father,
May I glory in You each day. May it be the only status I seek. May Your glory consume all my love for my glory. I give You the desires of my heart and the satisfactions of my soul so they become sealed in Your glory. Let me be in the place where Your glory dwells, that none will see me, but You alone in me. Amen.
Guard God's glory from your glory seeking. Let His glory alone shine through your face. Refuse to permit your face to chase your glory. (See too Exodus 34:29-35)
Today's Soul Snippet:
Love the Lord without condition yet call on Him with great conviction.
Love this SoulSnack - PLEASE don't keep it to yourself? Would you like to subscribe for free SoulSnacks either weekly or each workday?