Treading Water?
Soul Snack 144/13 ... Treading Water?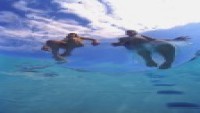 The days of Jonah are still upon us - tempest and disobedience remain bed partners for God is without escape.
Nothing in all creation is hidden from God's sight. Everything is uncovered and laid bare before the eyes of him to whom we must give account. (Hebs 4:13)
For your ways are in full view of the Lord, and he examines all your paths. (Prov 5:21)
"Who can hide in secret places so that I cannot see them?" declares the Lord. "Do not I fill heaven and earth?" declares the Lord. (Jer 23:24)
The fool says in his heart there is no God, while the wise admit He is everywhere. It is the sane who will approach the Throne of Grace and not vainly attempt to flee.
As in the days of Jonah so too today - why do people even bother to evade God for who can permanently resist storms or tread water?
Today's Soul Snippet:
"The Bread of Life never goes stale." ~ Annette Shankar
Did you find this SoulSnack helpful? If so please forward it to a friend.