Test God in 2016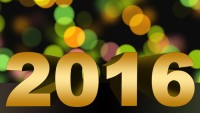 And the Lord spoke to me:
To those distracted or disabled, the fearful or the faithful I have this to say to you - no year, no breath, no relationship, no work is purposed for your distress but to lead you to Me. View this New year as the season for new gains and not the repetition of past pains. To those whose faith has been tested, stood upon the fiery stones or trod barefoot the thistle littered fields of life - this New Year is the season to seek hope at My feet and to become acquainted with and pursue My promises. Look for the good, for My intentions are not harm, hinder or hurt but help.
As this New Year arrives pursue My precious presence above your pleasures, for it is in My presence that you will dine upon the sweetest of grapes, the finest of wines and the freshest of bread to feed upon all year.
Delight in Me alone and then you will receive the desires of your heart. Test Me in this.
Take delight in the Lord, and He will give you the desires of your heart. (Psalm 37:4)
Today's Soul Snippet:
"If the Holy Spirit is to move through us He must first move in us."
Love this SoulSnack - PLEASE don't keep it to yourself? Would you like to subscribe for free SoulSnacks either weekly or each workday?