That Day to Trust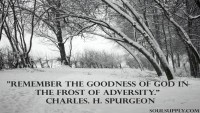 When the day breaks as bleak as the night was lonely...
When rest flees and health holds its hand...
When friends leave and the purse follows...
3 truths to hide in the heart and save upon the soul:
"One day we will meet beside the river and our Lord will dry every tear. For now, we must live in the joy of that promise and recall that for every generation life is hard, but for every generation God is faithful." ~ Bodie Thoene
"Hardship often prepares an ordinary person for an extraordinary destiny." ~ C.S. Lewis
"Remember the goodness of God, in the frost of adversity." ~ C.H. Spurgeon
each day the Lord's unfailing love surrounds the one who trusts in Him ... He sends His love and faithfulness. (Psalm 32:10b, 57:3c)
The quality of the path does not define the quality of the destination. ~ Michael Cartwright
Today's Soul Snippet:
Be wise about what is good and innocent about what is evil. (Romans 16:19b)
Permission is granted (and you are also encouraged) to reprint SoulSnacks in hard copy form, using them for Bible Studies or other Christian forums, as well as sending them to your own email lists and posting them on your own websites. SoulSupply asks only that you keep the SoulSupply website and email contact information intact.
Love this SoulSnack? - PLEASE take a moment and share it with a friend. Would you like to subscribe for free SoulSnacks either weekly or each workday?