The Pot that Wept#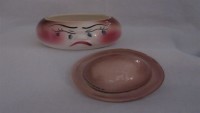 This anonymous tale of two clay pots has raised hearts and bandaged wounds for countless generations in various forms - for:
it is from poverty of spirit that the kingdom of God is received.
These were no ordinary pots for they could chat.
One was beautiful and exquisite, the other damaged from maltreatment. It wore several clear cracks, some with sharp edges.
The beautiful pot would daily taunt the broken pot:
I don't know why they keep you around here. You are ugly and broken and can't even do what a pot is supposed to do.
Nightly (and unseen) the broken pot wept.
Each day a servant came to draw water, today the broken pot asked:
Just throw me away. I am not decorative or useful, I can't even do the one thing pots are supposed to do.
The servant just smiled an affirming smile and instructed the pot to watch the grass beside their path to the creek.
When they had returned to the Master's house the broken pot repeated:
Throw me away! I did it again, as much as I try I can't even hold my water.
The other pot smirked, but the servant replied:
Did you watch the grass?
Yes, the broken pot responded in weakness.
Then you must have seen the beautiful flowers amidst the grass. You see, I use you to water those flowers that will grace the Master's table each evening.
Friend, I don't know where you are today but let me assure you that each one of us are flawed broken pots, in various degrees of disrepair and re-assembly. Should you feel you are not doing what others expect, take assurance that God is using you now to leak His love, mercy, compassion and grace in order to 'water those flowers' that grace your pathways and His table.
Jesus turns bruisings into blessings, burdens into beauty.
Today's Soul Snippet:
The impossible is available to those who rely on the eternal.
Love this SoulSnack - PLEASE don't keep it to yourself? Would you like to subscribe for free SoulSnacks either weekly or each workday?
#Today's SoulSnack is sourced with light edits from The Broken Pot. It is a universal anecdote of encouragement previously found in a similar form on SoulSupply - There is a Place for Women in Pieces.