The Seeds of Love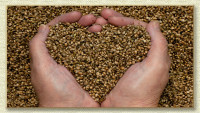 Every kindness we do to another in the name of Christ is the sowing of a good seed unto the Spirit.
Every deed of love, every act of unselfishness, every self-denial, all the things we do to help, to comfort, or to bless others are seeds which we sow unto the Spirit.
"In due season we shall reap."
For a time it may not appear that any good or blessing comes from the act of love or the word of kindness spoken. But the seed does not perish; it has in it an immortal germ. - James Russell Miller (1840-1912)
The King will reply, "Truly I tell you, whatever you did for one of the least of these brothers and sisters of mine, you did for me." (Matthew 25:40)
God promises no fleeting gratuity nor only extends a perishable reward. It is from a loving well beyond self that treasures are laid up in heaven.
But store up for yourselves treasures in heaven, where moths and vermin do not destroy, and where thieves do not break in and steal. (Matthew 6:20)
The seeds of love shall bloom forever.
Today's Soul Snippet:
Love feels no loads. ~ William S, Plumer
Love this SoulSnack - PLEASE don't keep it to yourself? Would you like to subscribe for free SoulSnacks either weekly or each workday?
ENJOY - Reaching for Love