9 Soul Snares from Tozer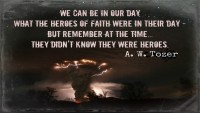 Aiden Wilson Tozer (1897-1963) was not a man backward in coming forward. He would retire to the Lord's presence but never retire from a challenge to the church. At a mere twenty-three he prayed on the occasion of his ordination:
I am Thy servant to do Thy will, and that will is sweeter to me than position or riches or fame and I choose it above all things on earth or in heaven. AMEN
A youth who could pray such a powerful prayer was not likely to permit his flock to recline upon a fair-sailing faith plagued only by their passions. He was one to contend with. As with his Lord, Tozer would model and preach a devotion beyond this world, claiming hearts are sent to heaven long before the spirit ever arrives.
For the easy believer, the dilettante and the lackadaisical disciple Tozer remains a divine snare to the Christian's soul:
Until your kingdom goes, His kingdom cannot come.
When that man has not settled that God is above all, he limits what God can do for him.
We never find peace or victory until God is given the place in our hearts that He has in the universe.
God can always use a man if He knows His glory is safe in that man's hands.
God will use any man willing to be used of God in God's way.
The proud send themselves but the humble are sent of God.
The woeful thing about having a vision is that it always puts you out of gear with your time.
If we are going to be a voice in our generation God will guides us down the path where all we have is God.
Accept God's call as promotion.
Very truly I tell you, unless a grain of wheat falls to the ground and dies, it remains only a single seed. But if it dies, it produces many seeds. Anyone who loves their life will lose it, while anyone who hates their life in this world will keep it for eternal life. Whoever serves me must follow me; and where I am, my servant also will be. My Father will honour the one who serves me. (John 12:24-26)
The desperate need of modern Christendom's hour is another pentecostal, soul-conquering, knee-bending, hands-folding dose of the Holy Ghost.
Today's Soul Snippet:
"Reformation in worship without reformation of the heart is no reformation at all." ~ Michael Cartwright
Love this SoulSnack - PLEASE don't keep it to yourself? Would you like to subscribe for free SoulSnacks either weekly or each workday?
Enjoy more ~ Tozer @ Full Song + Tozer & Effective Prayer