When the Back is too Bent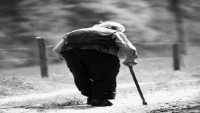 There comes the time when the back is too bent or the walking stick too short...
Much conflict, distress and trouble is already laid out, awaiting the Christian who would walk in their Lord's shadow for all wickedness to see.
Then you will be handed over to be persecuted and put to death, and you will be hated by all nations because of me. (Matthew 24:9)
When the soul groans under a war-torn load and the back bends forward - two powers that can steele the feet and remove the clay:
1. The Power of Humility
God is so very close to the humble, He is attracted to them. It is in humility that the Lord's servant becomes the scent of alabaster at His feet, or the Jonah to a modern Nineveh. It is from a surrendered anonymity that humility is found. Those who are obscured from man's eyes are crystal to God's. Humility is the recognition that you are nothing more than another beggar at the throne of grace. Choose for the menial, deliberately do what you don't like, enjoy being unseen and then definitely unrewarded. Give as the Lord leads to those who can't repay - those who have been alienated by this world and whose absence is not lamented.
2. The Power of Recall
Trace the course of life, His great driving forces for you and the heroes who brought you to faith. Etch these in your memory. Learn His promises of yesterday for they are your harbor in any gale until Heaven's haven is reached. Search for and remember God's faithfulness and teach it too to your children. Scan for His past kindnesses to you, for they are your anchor until tomorrow with Jesus.
Though your back may be bent, God's never is. He has always carried you and shan't cease.
Today's Soul Snippet:
"Nobody ever outgrows Scripture; the book widens and deepens with our years." ~ Charles Spurgeon
Permission is granted (and you are also encouraged) to reprint SoulSnacks in hard copy form, using them for Bible Studies or other Christian forums, as well as sending them to your own email lists and posting them on your own websites. SoulSupply asks only that you keep the SoulSupply website and email contact information intact.
Love this SoulSnack? - PLEASE take a moment and share it with a friend. Would you like to subscribe for free SoulSnacks either weekly or each workday?