3 Step Faith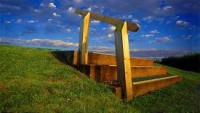 There exists a mere three steps to achieving success in each generation upon earth for the God of heaven. Yep - that's right, nothing tricky, just three.
But they are not without heartache, so few take them.
A.W.Tozer rightly recommends:
put away sin,
separate yourself from the world and
offer yourself to Jesus, no strings attached.
Tozer explained why:
The heart that God uses is the heart yielded to Him in faith and obedience.
Brian Doersken penned a prayer to sing for those who would be cold to this world but warm to the next - WATCH OUT for it takes Tozer's three steps.
REFINER'S FIRE
Purify my heart
Let me be as gold and precious silver
Purify my heart
Let me be as gold, pure gold

Refiner's fire
My heart's one desire
Is to be holy
Set apart for You, Lord
I choose to be holy
Set apart for You, my Master
Ready to do Your will

Purify my heart
Cleanse me from within
And make me holy
Purify my heart
Cleanse me from my sin
Deep within.
Purity is the conduit of union with God.
I will refine them like silver and test them like gold. They will call on my name and I will answer them;
I will say, 'They are my people,' and they will say, 'The Lord is our God.'" (Zechariah 13:9)
Today's Soul Snippet:
"Duty at church contributes precious little to devotion of the soul." ~ Michael Cartwright
Love this SoulSnack - PLEASE don't keep it to yourself? Would you like to subscribe for free SoulSnacks either weekly or each workday?