4 Items Never Bought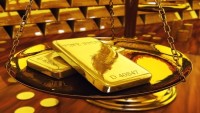 In a world moulded by gold it is yet to learn the most important things can never be bought.
The objects of peace and the home of harmony are never found on stock market floors or within bank safety deposit boxes.
Four items of unspeakable value that will never see a 'For Sale' sign are:
1) Integrity - New York's ex-mayor Rudy Giuliani taught:
only bribe men who will stay bribed.
This axiom simply proves an even older truth ... there is no honor amogst thieves.
2) Love - In Carlos Santana's 2014 autobiography he wrote:
love is not for sale.
He simply echoed the Beatles ... Money can't buy me love.
3) Humility - Moses was described by God as the most humble man upon the face of the earth.
Humility is not a commodity for trading but rather a character for living.
4) Grace - The symbol is a crucifix.
Grace that is bought is not.
The best things in life are still free, so why do we keep buying?
The measure of man is not found in how much he purchases, but in what he takes for free.
For it is by grace you have been saved, through faith – and this is not from yourselves, it is the gift of God – not by works, so that no one can boast. (Ephesians 2:8-9)
Today's Soul Snippet:
"Who will seek for righteousness instead of the search for knowledge?" ~ Michael Cartwright
Love this SoulSnack - PLEASE don't keep it to yourself? Would you like to subscribe for free SoulSnacks either weekly or each workday?