A Morning Prayer for Peace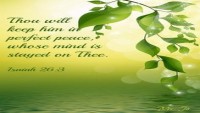 Dear Father,
thankyou for Your mercies new each daybreak. I am indebted to You for the refreshment of rest. Fix my mind yet again upon You today, that You may not be stolen from my thoughts or exiled from my heart.
Be my strength every morning and my peace each evening. May this day flow as a quiet river within and around me.
Strengthen me this day to give and so receive the peace I have from you with my fellow man.
I seek peace towards my brothers and sisters. I choose the harmony of overlooking offense. I pray that I may reap as I have sown. Amen
Lord, be gracious to us; we long for you. Be our strength every morning, our salvation in time of distress. (Isaiah 33:2)
Let your day turn upon prayer that your feet are firm, your eyes warm and your heart cherishes no harm.
Today's Soul Snippet:
"Trust in God and enjoy the journey." ~ Steve House
Love this SoulSnack - PLEASE don't keep it to yourself? Would you like to subscribe for free SoulSnacks either weekly or each workday?