A Window to the Heart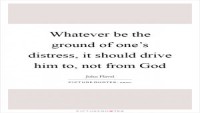 Who is there that would have a heart, yet has not known an incision or two?
Who is there who still has a heart to know Jesus more?
Rev. John Flavel (1628-1691) was an Oxford trained clergyman and staunch puritan. He wrote of the human heart (among many other subjects and volumes) in Keeping the Heart.
He was a man far too familiar with suffering. Yet, the cry that remained within to his Lord was:
Oh, for a better heart!
Oh, for a heart to love God more, to hate sin more, to walk more humbly with God. LORD, do not deny me such a heart, whatever Thou deny me; give me a heart to fear Thee, to love Thee, to delight in Thee and to be zealous for Thy glory. Amen
'Surely God is my salvation; I will trust and not be afraid. The Lord, the Lord Himself, is my strength and my song; He has become my salvation.' (Isaiah 12:2)
The heart's true intents bleed clearest when punctured by the arrows of ongoing pain.
Today's Soul Snippet:
"There are parts of the Bible that cause me difficulty, but none that cause me doubt." ~ anon
Love this SoulSnack - PLEASE don't keep it to yourself? Would you like to subscribe for free SoulSnacks either weekly or each workday?