Christmas removes the Church & State Division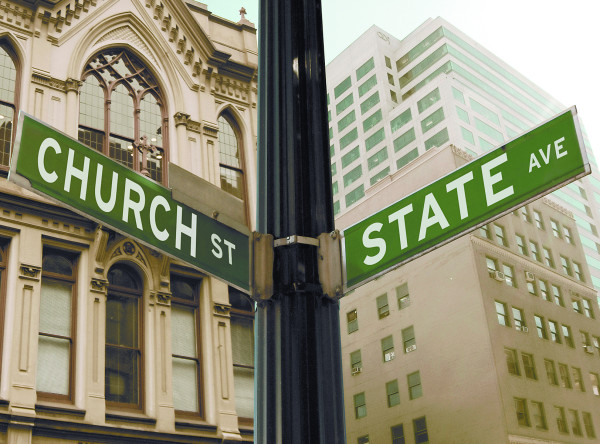 Fierce disputes have long erupted upon the overlap of church and state. Is not the state 'still out to murder the church'?
In 1998 Stephen Feldman edited a book on just this topic - Please Don't Wish Me a Merry Christmas; a critical history of the separation of church and state!
I wonder if Feldman's offering has in fact captured King Herod's attitudes reflected at that first Christmas? Here the state (King Herod) only sought murder of the church (the Messiah)?
Magi - men who were not of Israel, came to Jerusalem enquiring about the one to be born 'King of the Jews'. King Herod (the wicked) soon heard this scuttle, becoming most threatened. Herod called the chief priests and law teachers together to enquire of the Messiah's birth. (Enjoy the full story here.)
Herod, that fox, sought the knowledgeable, but lied to those wiser. He wished to murder Jesus. No competitor to him permitted.

The State is still threatened by Christ and Christians, as legislation pours across this western world to outlaw the righteous ways of Heaven.
Christianity maybe outlawed, but celebrating Jesus' birth can't be. Across this Christmas world hearts still raise joy:
on cold mountain sides
in barns and stables, and
from the unknown devotions of hidden men and women.
The State has and will continue as King Herod did, attempting to murder Jesus, separating their ways from Him.

BUT, Christmas means the State cannot always rule, for the day soon comes when the Savior defeats the State, and He shall rule forever.

Christmas means that the second state of this world will be forever better than the first. Because, State and Savior will become forever one.
For to us a child is born,
to us a son is given,
and the government will be upon his shoulders. (Isaiah 9:6a)
Today's Soul Snippet:
Christmas is God knowing He is blamed for the gloom of this world, but deciding to return blame with blessings.