ALIENATION ~ Heaven's 5 1st Class Boarding Passes - C#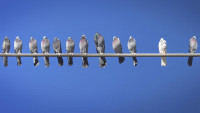 Life's battles daily begin with the wrestle to broach the quiet joy of God's presence.
A whispering deceptive voice enters the mind that would seek stillness and it creates dis-ease. This persistent thought accuses of laziness and explains a soul-tearing and dishonoring culpability for not appearing to be gainfully engaged. Yet the mind of faith counteract such lies, for in the presence of the Lord, this in fact becomes 'doing everything'. Approval is found by those who stop at His feet, even while false thoughts attempt to condemn.
I thought this would be a very easy matter and so I began to get still. But I had no sooner commenced than a pandemonium of voices reached my ears, a thousand clamoring notes from without and within, until I could hear nothing but there noise and din. Some of them were my own questions, some of them my own cares, and some were my very prayers. Others were the suggestions of the tempter and the voices from the world's turmoil. Never before did there seem so many things to be done, to be said, to be thought. In every direction I was pushed and pulled and greeted with noisy acclamations and unspeakable unrest. It seemed necessary for me to listen to some of them and to answer; but God said, "Be still, and know that I am God." (A.B. Simpson ~ 1909, The Power of Stillness)
He says, 'Be still, and know that I am God; I will be exalted among the nations, I will be exalted in the earth.' (Psalm 46:10)
There is nothing more important to the Lord than that I should be still in His presence. When this desire is equally pressing upon me I hold Heaven's boarding pass. It is in flight from the world that Heaven is headed to, heeded and needed. It is through my stillness I exalt Him.
CONSIDER - what use is a Christian to the Lord, what true faith-filled and loving fellowship can they enjoy with their Savior when they are so loved by the world that they return the favor.
Popularity is an enemy to the soul. It is the yeast of 'crowd-pleasing' and 'Lord-ignoring'.
Should this world and your brothers think ill of you, misjudge your intentions and believe you to be strange in stillness:
REJOICE - for alienation on earth is a welcome in Heaven.
Whom have I in heaven but you? And earth has nothing I desire besides you. (Psalm 73:25)
Today's Soul Snippet:
"To gain spiritual strength I must first lift spiritual weights."
Love this SoulSnack - PLEASE don't keep it to yourself? Would you like to subscribe for free SoulSnacks either weekly or each workday?