Babylonian Faith ~ C ... The Future
Introduction
We ALL live in Babylon. It is worldwide. It promises peace. Our faith and our future is both formed and informed by a creation united against, and wilfully independent of its Creator. Babylon's unhealthy influence permeates our souls, and soaks all our actions. As Christians we are unwitting diners at Babylon's soul-catching feasts.
Yet Babylon is as much the city of confusion as Jerusalem is the city of peace.
Babylon turned Eden into Baghdad. Babylon is in fact the place of desolation, but it deceitfully adorns its disarray as the home of riches.
As Christians we are unwitting diners at Babylon's soul-catching feasts.
Babylon teases at faith; it attempts to make barren a Christian's beliefs, and secure destruction of a Christian's soul.
As in Genesis 11, so too today. Babylon remains the object of God's judgement, for it is unable to be healed (Jeremiah 51:9).
Babylon's Future
Approaching is the day, when the sun will rise upon Babylon for the final time. babylon will be as ignorant to this apocalyptic dawn as it is to the Lord now. BUT the last sunrise for Babylon will usher in the second Sonrise for all who face Jerusalem.
Confusion can never rule peace. Babylon will be ruined, but Jerusalem restored.
Biblical pre-history is to be repeated these days. Babylon remains under divine control. It is only the imprimatur of heaven that permits its continued existence. Babylon is not a free agent.
A home to demons, a haunt to the detestable, and a whore to the nations will never survive He alone who controls time.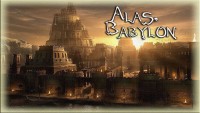 Privilege, power and great wealth; luxuries, splendor and precious stones are no hedge against weeping and mourning. There is no fortress against the hour of divine destruction, or the trumpet blasts of heaven.
The city and the merchants who 'traded in the souls of men', who drew the blood of the prophets will reap what they have sown.
The last sunrise for Babylon will usher in the second Sonrise for all who face Jerusalem.
God's coming judgement upon Babylon is as guaranteed, as it will be swift. (Revelation 18 verses 10. 17 and 19 explain Babylon's ruin only takes one hour.)
Under King Nebuchadnezzar, Babylon became God's instrument of destruction against His disobedient nation; soon it will become God's object of destruction; this time for its own disobedience.
In Revelation 18 the Apostle John, while exiled on Patmos in his final years, saw an angel who spoke the intentions of heaven to him. A window into God's heart he peered into, a tape of God's plans he listened to. Babylon falls. God's intentions are abundantly clear.
Fallen! Fallen is Babylon the Great! She has become a dwelling for demons and a haunt for every impure spirit, a haunt for every unclean bird, a haunt for every unclean and detestable animal. (Revelation 18:2)
Industry will end, no light can shine and Babylon's celebrations will be no more. Babylon is to never be found again, mercy will be lost forever. Complete annihilation is its lot, and then peace will rule eternally.
Conclusion
Refuse to build upon what God intends to destroy. As our Lord did, set your face resolutely to Jerusalem, the only city of peace.
Christians are those who fill the heavens with the hallelujah chorus of Revelation 19, and not those bleeding with lament in chapter 18.
Don't bank on Babylon - make all your deposits in Jerusalem; for Babylon is the place that will be lost forever.
"O God, stamp eternity upon my eyeballs." ~ Jonathon Edwards
Hold very lightly to the things of today, no matter how much glitter they carry, or glare they shine - for these are not the things of tomorrow.
NEXT month ... Leaving Babylon
Babylonian Faith ~ A ... Foot Soldiers for Babylon
Babylonian Faith ~ B ... Living in Babylon