God's Solid Gold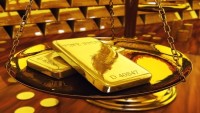 Soul Snack 82/14 ... God treasures praise. This brief vision shows how much.
Gold-dust Piles#
I saw a small pile of gold-dust.
As I wondered what it was, the Lord seemed to say, "It is the accumulation of the glory you give to Me!"
Every time we thank Him or praise Him or worship Him, so a grain of gold-dust is added to our pile.
I saw lots of piles of gold-dust - some huge, others less so, and some very small ones. I sensed the Lord weeping tears of joy over the small ones, the tiny ones - the "widow's mites" that were offered by children and the very poor. I looked at my own sorry pile and realised how much more glory I should be giving Him.
You, me, all of us can be giving God far more glory than we do. Perhaps we take far too much for granted and get blasé about all His gifts to us? I had to do a bit of repenting - I expect we could all do that?
Praise the Lord all you servants of the Lord ... (Psalm 134:1a)
Praise is solid-gold to God.
Today's Soul Snippet:
The desert is the classroom of the soul.
Love this SoulSnack? - PLEASE take a moment and share it with a friend. Would you like to subscribe for free SoulSnacks either weekly or each workday?
# Written and kindly supplied by Chris Bennett