The 1st 'Green Peace'
They confronted me in the day of my calamity, but the Lord was my support. He brought me out into a broad place; He rescued me, because He delighted in me. (Psalm 18:18-19)
As always - God thought and thinks first. Always has, always will.
He promoted 'Green Peace' at least three thousand years prior to mankind even contemplating his own inept attempts to capture it.
The world thieves the soul at the workplace...
The world thieves the soul at the shopping mall...
The world thieves the soul with its unmet promises...
but God returns all to the soul of faith.
Be at rest my soul for the Lord has been good to you. (Psalm 116:7)
In the green place the Lord proffers peace. It is here a man chooses to take from the Lord's outstretched hands. He so stops to receive Divine favor, and thus gains Heaven's restoration to the human soul.
How many needy believers see the quiet, the still and inviting waters - yet fail to stop?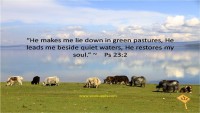 The evidence of God's provision for you is the beautiful pasture of rest He leads you to.
The Lord your God is with you, He is mighty to save. He will take great delight in you, He will quiet you with His love, He will rejoice over you with singing. (Zephaniah 3:17)
Today's Soul Snippet:
'Where the Holy Spirit leads you to - satan will tempt you from.' ~ Michael Cartwright
Did you find this SoulSnack helpful? Would you like to subscribe or forward it to a friend?
ENJOY - Desert Days from MyParable
#This photo was taken at Khuvsgul Lake, in the province of Khuvsgul - the central north of Mongolia. It is on the Russian border. This lake is claimed to be the world's largest fresh water supply.