Hidden by Transparency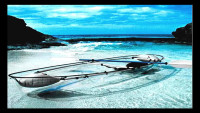 God did not rifle through a supermarket bin of glittering paper...
He strolled down no Christmas aisles to buy shiny wrapping for the most expensive gift of all time.
Instead God wrapped His Son in:
illegitimacy
humility
poverty
shame
rejection
homelessness and
obscurity.
No housing, no midwife, no hospital, no bassinette and no fresh baby clothes (swaddling cloths were in fact clothes for the dead) were available at Jesus' birth. A barn, a feeding trough and uncleanliness were His divinely chosen wrappings.
This babe was visited by pagans, and society's 'trash' (the shepherds).
Jesus' welcome to earth was as humble as His birthplace upon earth.
BUT this gift was clothed in heaven's values. In the wrapping of Jesus, God the Father demonstrated what IS really, really important to Him.
At that first Christmas God tipped His hand, He revealed His heart to a fragile humanity. Jesus' gift wrapping was and is completely transparent.
It was the unknown people who God invited to an obscure manger.
The Father peeled His heart back at His Son's birth for the world still to see.
Today's Soul Snippet:
The clarion call of Divine faithfulness is for human reciprocity.
Love this SoulSnack - PLEASE don't keep it to yourself? Would you like to subscribe for free SoulSnacks either weekly or each workday?