Hitting Back at Poor Identity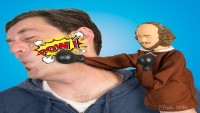 Sketching is almost everything. It is the painter's identity, his style and his conviction. ~ Fernando Botero
From the seeds of time man has valued himself by his work. Mankind since then has been headed for many falls.
Your identity is defined by who you belong to, not by what you do.
Your identity is defined by your heart, not by your hands.
A man's work is a stumbling block to his identity. For, who is he when his work is finished and his efforts proved as straw? Then he can only define himself as 'I was', and no longer say 'I am'.
Demons, high priests, the apostles and the crowds all addressed Jesus as the Son of God. Jesus addressed Himself as the Son of Man. Jesus did not define Himself, or was defined as a carpenter. He was correctly known as belonging to both God and man.
Jesus no more defines a human by his work than He did of Himself. Therefore neither should any man.
To those smeared by their own foolishness, bogged in their failures, or living with their flaws (which is every man and woman on earth) please note - you are not defined in God's eyes by your mess-ups or even your successes, but by where your heart lies.
I am a Christian for my heart belongs to Christ, that is all.
For where your treasure is your heart shall be. (Matthew 6;21)
Let no man fall into satan's trap to believe in a misguided (and damaging) identity.
A man's identity is not measured by the work of his hands, but rather the worship of his heart.
Today's Soul Snippet:
Righteousness is no mere concept of thinking, but the first precept of living.
ENJOY TOO - Blurred Worship is Blurred Work
Love this SoulSnack - PLEASE don't keep it to yourself? Would you like to subscribe for free SoulSnacks either weekly or each workday?