How Peace Peeps into the Soul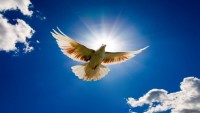 There is a time to start and a time to stop.
What does a man gain from all his labor at which he toils under the sun? (Ecclesiastes 1:3)
When a man pauses he reflects and then questions. He conducts an audit of his well-being and an assessment across his soul. He then withdraws his moral compass from a breast pocket. His headlong rush towards his desires and opportunities, his flights to freedom or fantasy are all put on hold.
The irony of our time is that we have guided missiles and misguided men. ~ Martin Luther King Jr
There is far more value in grasping the armrest of a tired sofa, than grabbing the handle of an unsteerable shopping trolley. It is only then that a man discovers who truly owns his life.
His heart informs him it is surrendered to Jesus, but when life is paused the deceits of his heart are revealed. The mind reveals what the heart desires, that which obedient feet pursue. Such is the mighty work of a man's counsellor, the Holy Spirit of Jesus.
The heart is deceitful above all things and beyond cure. Who can understand it? 'I the Lord search the heart and examine the mind...' (Jeremiah 17:9-10a)
When life is paused a man examines what he has done under the sun. He sees his chasing after the winds, that pleasant but empty tussling of his hair to no eternal value.
We have tried to clean up the air but polluted our soul, we've split the atom but not our prejudice, and we are aiming for higher income but we have lower morals. ~ Jay Shetty
Pausing is a holy thing. It is a man's deliberate separation, a laying of self aside amidst a generation that knows nothing of holiness.
From within the pause God straightens a man's judgements; he increases in Heaven's true wisdom, losing the world's substitutes. Peace is peeping within his soul.
Peace is never a mere treaty of man but the finding of self in pausing before God.
Today's Soul Snippet:
'Oh God, I have tasted Thy goodness, and it has both satisfied me and made me thirsty for more.'
~ A.W. Tozer.
ENJOY too ~ Living Through The Rainy Days
Permission is granted (and you are also encouraged) to reprint SoulSnacks in hard copy form, using them for Bible Studies or other Christian forums, as well as sending them to your own email lists and posting them on your own websites. SoulSupply asks only that you keep the SoulSupply website and email contact information intact.
Love this SoulSnack? - PLEASE take a moment and share it with a friend. Would you like to subscribe for free SoulSnacks either weekly or each workday?