The Love Comp
Soul Snack 45/13 ... The Love Comp
Love has its competitors. There is always competition for the heart.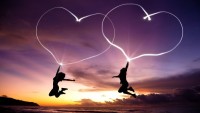 The gloss of this world invites lovelessness to the Lord.
The earth and all its things are combatants for each believer's attention. It is said - whatever gains your attention gains you.
Thoughts during the hollow moments, the flights of the eyes, the content of speech and the directions feet choose all evidence the nature of the heart.
There is no sage wiser or no spirit more gifted than he who is able to audit both his love for the Lord and his love of the world.
There are two competitors for the heart but only offers love forever.
(Remember a weakened heart and a bruised soul is far more vulnerable to the world's seductions in this ferocious contest for the heart.)
Do not love the world or anything in the world. If anyone loves the world, the love of the Father is not in him. For everything in the world—the cravings of sinful man, the lust of his eyes and the boasting of what he has and does—comes not from the Father but from the world. The world and its desires pass away, but the man who does the will of God lives forever. (1 Jn 2:15-17)
Father please inscribe these words upon my heart that my eyes won't wander and my feet won't follow. AMEN
Today's Soul Snippet:
It is upon a man's knees that he is made by God.