Just Follow the Lord#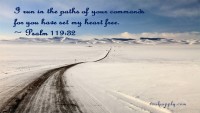 The wise will unerringly pursue freedom - they just follow the Lord.
Every time you greet the 'T' intersections of decision choose for obedience, your faith will be honored:
Our Lord holds for the obedient far more than we can ever imagine, no matter how wild our thinking...
Just follow the Lord
The nights of darkness, those troubling ventures into the unknown and unseen calls of faith, are not to be despised...
Just follow the Lord
When despair floods and energy fails, those who live by faith will again be warmed by the noonday sun...
Just follow the Lord
If the enemy is victor and the spirit is flattened...
Just follow the Lord
Should life present no threats and peace flows like a river within, the Lord may be forgotten - still...
Just follow the Lord
...blessed are the people whose God is the Lord. (Psalm 144:15b)
Trust without compromise those nail-pierced hands and feet, the head crowned with thorns, this righteous-living Lord now raised from the dead and seated in heaven.
Just follow the Lord because:
He has passed through earth successfully to pave the path so you can too.
Today's Soul Snippet:
'Blessed are the single-hearted, for they shall enjoy much peace… If you refuse to be hurried and pressed, if you stay your soul on God, nothing can keep you from that clearness of spirit which is life and peace'. ~ Amy Carmichael
# a special thanks to the subscriber who provided today's image from Mongolia.
Permission is granted (and you are also encouraged) to reprint SoulSnacks in hard copy form, using them for Bible Studies or other Christian forums, as well as sending them to your own email lists and posting them on your own websites. SoulSupply asks only that you keep the SoulSupply website and email contact information intact.
Would you like to subscribe for free SoulSnacks either weekly or each workday.