Lovers Love to be Alone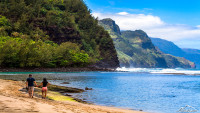 'We are still prone to value or affirm a kind of heroic exhaustion as being what God wants. Even today you hear people preaching in this kind of way. There was and is a fear of idleness.' ~ Ray Godwin
Jesus is THE model for all living. Christians choose obedience and find rest. His habits become a Christian's virtue and canopy each day, should they live likewise to Him.
It is an easy choice for the human spirit to mimic Jesus, but the battle is always fought in the flesh to obey. The carnal man confronts the spiritual man within, thus denying permission for the spirit to obey. Yet, Jesus' model will always continue - it is always right.
It is a simple miss to note the idleness of Jesus. This is no more than a 'gloss' in the Gospels when we sit and ponder Scripture to mine it for our correct theology. Each Gospel writer makes this same small point of Jesus withdrawing. It is not neglected, nor is it often repeated.
Eight gospel verses still tug at my heart (I think they always will). I can't ignore them:
After Jesus dismissed His disciples, He went up on a mountainside to pray. When the evening came He was there alone. (Matthew 14:23)
Very early in the morning, while it was still dark, Jesus got up, left the house and went off to a solitary place, where He prayed. (Mark 1:35)
Jesus stayed outside the town in lonely places (Mark 1:45b)
Jesus said to His disciples, 'come with Me to a quiet place and get some rest'. So they went away in a boat to a solitary place. (Mark 6:31b-32)
After leaving His disciples Jesus went up on a mountainside to pray. (Mark 6:46)
Jesus often withdrew to lonely places to pray. (Luke 5:16)
One of these days Jesus went out to a mountainside to pray, and spent the night praying to God. (Luke 6:12)
Jesus withdrew again to a mountain by Himself. (John 6:15b)
Jesus withdrew for protection and prayer. He invited His disciples to idleness too with Him. He still does!
Draw alone to Jesus for:
whoever comes to Me I will never drive away. (John 6:38)
Lovers love to be alone. ~ Brennan Manning
Today's Soul Snippet:
'Wisdom has never made a bigot, but learning has.' ~ Josh Billings
Love this SoulSnack - PLEASE don't keep it to yourself? Would you like to subscribe for free SoulSnacks either weekly or each workday?