Melting My Heart!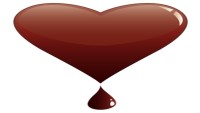 Soul Snack 167/14 ... The most precious time upon earth is dwelling in God's presence; it is a mere morsel of eternity. This keeps me safe from exchanging the temporary for the permanent.
For forty years the Israelites circulated the Sinai Peninsula - the Desert of Sin; under God's presence the entire journey.
For forty years the Israelites gathered sweet heavenly manna every morning. Each always collected exactly the correct amount, (and each gathered randomly#). But the manna faded, heaven's sweetness dulled, it melted in the heat of the day.
Each morning everyone gathered as much as they needed, and when the sun grew hot, it melted away. (Exodus 16:22)
God's Word is received in the morning, but the heat of the day, the demands for my attention and the pressures of life quickly melt it from my heart.
Let the morning bring me word of your unfailing love, for I have put my trust in you. Show me the way I should go... (Psalm 143:8)
Oh how I long to the collect the Lord's sweetness each morning, for by night fall (no - lunch time) I fear I have lost it again.
A life without sweetness ends up unnecessarily bitter (and we all know sour people).
Devotion is nectar to the soul, manna from heaven, the sweet delights to fuel my engine at sun up.
Permit God' Word to melt your heart before your day melts His Word in it.
(# It doesn't matter where you gather God's sweet manna from within His Word, but that you do gather.)
Today's Soul Snippet:
"All you have to do to win is to rise each time you fall." ~ anon.
Love this SoulSnack? - PLEASE take a moment and share it with a friend. Would you like to subscribe for free SoulSnacks either weekly or each workday?