Mick Jagger & the Desires of the Heart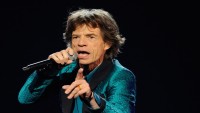 At irregular intervals a sneaking spiritual beetle crawls the dishevelled web of my soul. It seeks hindsight, believing in the strong suspicion that this maybe my finest educator.
In 1969 a twenty-six year old Mick Jagger rocked and rolled the western world in what Rolling Stone magazine listed as the 100th Best Song of all time (2004) with;
You Can't Always Get What You Want.
And YES - the power of hindsight has proved a now elderly Mick correct.
Maybe desires lie unsatisfied within the heart? You have:
longed for the seemingly impossible, prayed until your knees ached while your eyes bled? or
ached in an unrequited persistence to meet your desires; this then crushed your spirit all the more from its failure?
Hint:
God will not entertain any competitor for your heart.
Delight yourself in the Lord, and He will give you the desires of your heart. (Psalm 37:4)
It is from my history that I learn what I have had in my heart for me and grasp:
God's clothing for me is far finer than any I may desire.
Today's Soul Snippet:
"Spiritual ambition walks spiritual pavers named endurance." ~ Michael Cartwright
Love this SoulSnack - PLEASE don't keep it to yourself? Would you like to subscribe for free SoulSnacks either weekly or each workday?