Nature's Cathedral#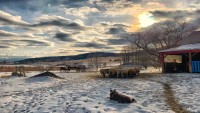 'We are created to read the book of creation so that we may know the Author of Life.' ~ Ilia Delio
The heaven's praise your wonders, O Lord, your faithfulness too in the assembly of the holy ones. (Psalm 89:5)
"It is my practise often to seek God away from the crowds and trappings of man made things. It is in the solitude of nature's own cathedral one can pray from within, conscious God is there with you.
Many years ago a Salvation Army officer scolded me for not attending citadel twice on Sunday. He considered it unholy to spend the morning with God in my British bushland. BUT above the winding river, amongst huge boulders, trees glistened with God's jewels in the dew upon leaves, God was there. His handiwork shouted from the bird songs floating across the valley. And, as the day began to warm a fine mist rose from the river's surface matched with golden shafts of sunlight that danced joyously upon the rocky surfaces.
My God was with me. His arms were around me, swallowing me with a divine love. My spirit was refreshed, my inner being full of joy.
I now live in the sub-tropical climes of New South Wales. This is very different. It is beautiful place on a hinterland escarpment. Daily I delight in stunning views of valleys and plateaus. Australia's wildlife abounds, it is without equal. God's hand is here too.
The gifts of nature proclaim the existence of God, and Jesus Himself. I feel so close to the Father in solitude. For it is in solitude my cup is refilled, and my mind opened to what the Lord wants from me and to do for me. God is love.
Praise the Lord for all nature sings to Him." #
Today's Soul Snippet:
'This is the miracle of love: to discover that all creation is flung out into space by the God who is a Father, who presents Himself as unarmed and caring for peace, for this God is always first - LOVE.' ~ anon
#Today's SoulSnack has been very kindly supplied by a SoulSupply subscriber, Christine Anderson, as a response to Monday's SoulSnack - Lovers Love To Be Alone.
Love this SoulSnack - PLEASE don't keep it to yourself? Would you like to subscribe for free SoulSnacks either weekly or each workday?