Of Aliens & Strangers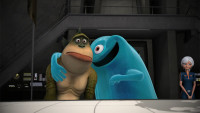 The Holy Spirit has reminded me yet again that God's elect (His chosen ones) are strangers to this world.
Strangers cannot by definition be followers of any familiar culture, but can expect to be misunderstood and/or falsely judged - not found worthy by those around them.
'Alien' is an accurate description for any who would wish to honestly call Jesus the Christ - MY LORD amidst a world that only recalls His name as a swear word.
Jesus' choice of us is that we maybe obedient to Him so we may walk in His light, not pursuing the changeable whims of a mankind travelling in darkness.
Each believer is chosen to be obedient and cleansed by Jesus' blood; a privilege not open to all, never to be treated cheaply that only the fool would retreat from.
Earth is at best a hotel, it can never be home.
Obedience to Heaven is a far more desirable and a far less chilling life upon planet earth than acquiescence to this world.
Peter, an apostle of Jesus Christ, To God's elect, exiles, scattered throughout the provinces of Pontus, Galatia, Cappadocia, Asia and Bithynia, who have been chosen according to the foreknowledge of God the Father, through the sanctifying work of the Spirit, to be obedient to Jesus Christ and sprinkled with his blood (1 Peter 1:1-2)
If you are IN with God your are OUT with the world. ~ Rodney Smith
Those who obey also overcome.
Today's Soul Snippet:
The world's golden sands are quicksands. ~ Thomas Watson
Permission is granted (and you are also encouraged) to reprint SoulSnacks in hard copy form, using them for Bible Studies or other Christian forums, as well as sending them to your own email lists and posting them on your own websites. SoulSupply asks only that you keep the SoulSupply website and email contact information intact
Love this SoulSnack - PLEASE don't keep it to yourself? Would you like to subscribe for free SoulSnacks either weekly or each workday?