Of Trash & Prayer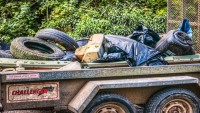 My trailer is popular, its ancient and anxious leaf-springs grunted again as they bounced over the kerb. Creaks, rattles and thumps were the orchestra for this trip to the rubbish tip.
Normally my trailer quietly rusted, chained to the fence. It was a good and hardy trailer but the trailer's availability spelt its own demise. Many would borrow and use it. Some would return it in poorer condition. Some may even offer a thanks.
The unspoken law of box trailers is magnetism. Trailers are magnetic for friends. These friends always come to borrow. They visit to get, not to give.
As the years wore on it became clear that some only phoned when they needed me (my trailer) again. These people weren't really friends. They simply came to take.
At times I felt as valued as the trash in my trailer.
True friendships are always two ways, giving and taking with a 'thanks' in between.
I felt quite sad, when people only came to me to for their benefit, to take from me. BUT God still gets the same treatment far more than I do - for surely this too is how I (we?) often pray.
God too delights to be approached well. I never rubbish God if I enter His presence with a hearty - THANKYOU!
Open for me the gates of righteousness; I will enter and give thanks to the LORD. This is the gate of the LORD through which the righteous may enter. (Psalm 118:19-20)
When I first approach my heavenly Father with gratitude, He will never feel trashed.
My prayer requests can always wait until later, He will still be there.
Today's Soul Snippet:
"He who kneels the most stands the best." ~ D.L.Moody
Did you find this SoulSnack helpful? Would you like to subscribe or forward it to a friend?
ENJOY- Heaven Pleads from MyParable