Peeping to Tomorrow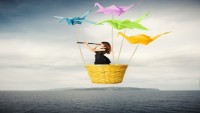 Soul Snack 158/14 ... What has been built will be broken.
What has been found will be lost.
What has been done will be undone.
There is no victory that has not been won before - there is no joy or no sadness, no moment that is new under the sun.
The satisfying of desire finds no end, as the sea is never filled.
Nations fall and endeavor fades.
There is but one thing that outlasts man and all his busy-ness, all his thirsts and strivings.
There is but one thing that survives generations, only time alone may dull - it is subject to neither weathering nor failure. Whether it is for good or evil, wealth or poverty, mercy or vengeance a man's influence can stand well beyond his mortal coil.
The pursuit of affluence is desirable but the pursuit of influence can be eternal.
Even when I am old and gray, do not forsake me, O God, till I declare your power to the next generation, your might to all who are to come. (Psalm 71:18)
Peep into a future after you, unseen, only imagined - what core legacy do you seek to leave?
What is it that you will declare to generations yet to come?#
Today's Soul Snippet:
What you learn from life is far more important than what you earn in life.
Love this SoulSnack? - PLEASE take a moment and share it with a friend. Would you like to subscribe for free SoulSnacks either weekly or each workday?
#This Soul Snack was inspired from Ecclesiastes 1:1-11