Pillar Talk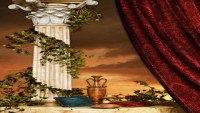 The one who is victorious I will make a pillar in the temple of my God. Never again will they leave it. (Revelation 3:12a)
This promise wells-up in my heart and shines brightly upon my soul. It is Jesus' intention that I will be His pillar in His place of worship, YES - I will support His praise forever. His eternal praise will be built upon my well weathered support. I want this, could you too?
Columns stand, they are firm, erect and steadfast - immovable anchors in fact, that is their task. No pillars are cast from sand, they must be formed from rock.
My column of faith that stands firm upon earth, will become His pillar for devotion in Heaven. Heaven will not war against its standing; for this pillar has already proved strong, withstanding the fury of hell and the seductions of Babylon upon the way.
The burdens I bear upon earth are the only loads I will ever have to carry.
Today's Soul Snippet:
"Wealth is a vapor, fame is fleeting but righteousness remains forever."
Love this SoulSnack - PLEASE don't keep it to yourself? Would you like to subscribe for free SoulSnacks either weekly or each workday?