Punching the Pillow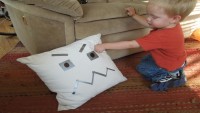 Around AD 95 on rugged volcanic terrain in the Greek Mediterranean a banished apostle John sat with his God. His island of exile was Patmos. He wrote Revelation.
Wind the hands of time back further and Moses would climb his Mount Sinai, or King David would stop beside his still waters. All enjoyed the delightful presence of God, and His timeless inspiration. You can too.
Our Lord Jesus lived this habit:
Very early in the morning, while it was still dark, Jesus got up, left the house and went off to a solitary place, where He prayed. (Mark 1:35)
God's best place for me is found early in the morning, and alone. He wakes me and invites me into His presence. His joy is in my company.
In His presence I receive love, gentleness, guidance and His pleasing manna for my day - my daily inspiring bread. With praise lifted in my heart I then pray through the items awaiting me that day and beyond.
God honors me each morning because He seeks me out. I honor Him because I choose Him first. At my uncluttered dawn the God of heaven will pay attention to the cluttered detail of my life. God's desire is for my life's details to be part of His life's details.
In the early morning Jesus invites the restless to find peace, those in bondage to know freedom and those in darkness to see light.
In the early morning I am able to offer Him a fresh self with an unhindered attention.
Daily God beckons to pour His sweet wisdom into my soul, for in it is received the hope of a future that will not be cut off. (See Proverbs 24:14)
Daily He wakens me to bless me, support me, form me, inform me and inspire me.
Oh what loss pillows and bedclothes can bring to the soul - oh what gain to punch them aside.
He wakens me morning by morning, wakens my ear to listen like one being taught. (Isaiah 50:4b)
Today's Soul Snippet:
'Praise God for the hammer, the file and the furnace.' ~ Samuel Rutherford
Love this SoulSnack - PLEASE don't keep it to yourself? Would you like to subscribe for free SoulSnacks either weekly or each workday?