Reconstructing the Evangelical Soul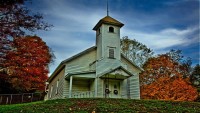 Soul Snack 83/14 ... A fresh mission draws, WAIT no - it lures me from evangelical rectitude and shades me under the Tree of Life.
The ungodly compromise of ecumenism injures my spirit, the hollow-repetition of a mindless ritual numbs my soul, and I shudder with fear at the too common doctrine of church roster enrolment, tithing and attendance as true measures of Christian faithfulness! But (as with all other men) true Christians are only revealed by who they are when on their own.
Where is the yearning of the Christian's soul, if it is not first not to sit at the feet of The Almighty, prior to the communion of saints?
Oh what consequence is applied righteousness to a believer's mind if he tarries in learning it, and so fails in obeying it?
The activism at all things church contributes precious little to the vitality of the soul. It becomes a mere ornament to faith, and a vain accoutrement to the conscience when compared to life at the feet of the Lord. It is at his nail-scarred feet a true communion arises. Gathering around His throne the devoted brethren become the loving Bride of Christ and His church is truly formed.
It is my angst that a soul stirring theology of doing church in fact neglects, even fails to pour expensive perfume upon Jesus' dusted feet, or weep tears across His unjust wounds. Then is missed this heart-lifting affirmation worth dying for ...
but only one thing is needed. Mary has chosen what is better and it will not be taken away from her. (Luke 10:42)
Over 50 years ago A. W. Tozer penned these brave observations and there has been no ascent to this day:
What a tragedy it has been that in our time, we are taught to believe in Him and accept Him, and to seek Him no more. This is where the evangelical church is today. What I am trying to do is encourage people to want to seek God.

We are nothing unless we have a crowd around us, not realising that to penetrate into the very presence of God is a very lonely journey.
The evangelical soul has become stained with both study and service, while neglecting its divine energy found in a Holy Spirit inspired stillness and solitude, while leaning against the bough of the Tree of Life.
Who would seek to be lonely with the Lord before being busy for the Lord, this remains such a strange thing?
Is there another reader with this mission beating music within their soul too?# Please let me know!
Today's Soul Snippet:
Jesus came to be a feast at my table not just an entree to the menu of life.
Love this SoulSnack? - PLEASE take a moment and share it with a friend. Would you like to subscribe for free SoulSnacks either weekly or each workday?
# Read much more in GREAT MERCY
Today's SoulSnack is sister to A Strange Thing