Scribbling Words in the Sand
Soul Snack 15/14 ...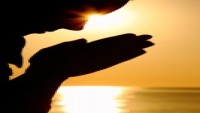 There are five pillars to personal devotions:
Stillness
Secrecy
Separation
Silence and
Solitude.
It is with all my heart that I believe these pillars are also the piers to construct a legacy upon.
In this manner the ancient desert fathers conducted their daily lives. It is how they scribbled words in the sand that have not been blown away.
This hungering for legacy is embedded upon the knees.
Feed a spiritual devotion so strong that it attacks carnal desires, and quietens the appeals of the flesh.
Will you pray with diligence?
Will you pray with devotion?
Will you pray without distraction?
Will your prayers be so selfless they will leave an unseen legacy beyond the grave, a spiritual inheritance of unknown wealth?
Legacies can be seeded only when a Christian jumps over the enormous obstacle of contemporary protestant activism.
Today's Soul Snippet:
Humility is an aphrodisiac to worship.
Love this SoulSnack - PLEASE don't keep it to yourself? Would you like to subscribe for free SoulSnacks either weekly or each workday?