Shining on the Poor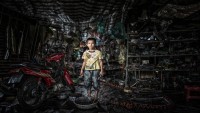 Do you feel your name is written in the heavens but only scribbled upon earth?
Does your very existence cry out for God's presence, thirsting with the deer and knowing your breath is drawn from Him alone?
Have the streets of your life been fenced by the palings of suffering and secured by the nails of hardship?
YET - The light still shines in the darkness, for the darkness cannot overcome it. (John 1:5)
Piercing the gaps in the palings and flowing around its posts to you, is an interrupted and inviting light - it is always there, it must be - because darkness cannot overcome light.
Above the sorrow and the sinking darkness cast the eyes skywards to the beams of Jesus' light because:
This I know and of this I am sure, Jesus beams upon the poor.
Blessed are the poor in spirit, for theirs is the kingdom of heaven. (Matthew 5:3)
Jesus' heart remains always overflowing for the lost, the least, the last and the lonely.
It is such humble ones who seek Him that shall surely find Him, belong to Him and so step forever in His wonderful, joyous light.
Today's Soul Snippet:
The impossible is available to those who rely on the eternal.
Love this SoulSnack - PLEASE don't keep it to yourself? Would you like to subscribe for free SoulSnacks either weekly or each workday?
ENJOY ~ Lightning Strikes of Love