Solitude & Me#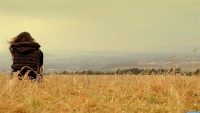 As with our Lord and St. Benedict, I too require solitude's fields of refreshment.
In solitude I discover more of Jesus. He then disarms me with love.
I need solitude to enter the depths of myself, where hopefully, I will hear God speak a word of love to me. "Be still and know that I am God," the psalmist pleads. This is solitude's gift to me - to both know myself and the beloved God of Calvary. (Sister Patty Fawkner)
In solitude I dismantle life's scaffolds, for I have never belonged to me but have been bought at a price - at a cost far beyond the bounds of this earth and my human imagination.
Do you not know that your bodies are temples of the Holy Spirit, who is in you, whom you have received from God? You are not your own; you were bought at a price. Therefore honour God with your bodies. (1 Corinthians 6:19-20)
Solitude is fuel for living, but it is a wrestle. Paradoxically I can both yearn for it and resist it. Tasks scream at me louder than stopping.
Courage with self places both my hands across the clock face, closes out the diary and embraces solitude's rescue from Babylon's soul numbing din.
Could God have said this too to Elijah, as the prophet (see 1 Kings 18:18-40) called for two slaughtered bulls and four large jars filled with water:
I won't send My fire on a wriggling altar. When My lambs stop wriggling and bleating, when they lay still before Me, then I will send my fire. (Chris Bennett)
When you are unplugged from the city, wrapped in the wilderness and sheltered by solitude - Heaven whispers:
you are never alone, not even here.
Today's Soul Snippet:
God's grace and goodness is His people's secure resource.
Love this SoulSnack - PLEASE don't keep it to yourself? Would you like to subscribe for free SoulSnacks either weekly or each workday?
ENJOY ~ Jesus did Solitude & St Benedict did Solitude
#Inspired by Sister Patty Fawkner of the Good Samaritan Sisters