Morning Sickness
Soul Snack 215/13 ... Morning Sickness
Mornings are important to God.
Jesus held the habit of rising before sunrise.
Are Christians today sick in the mornings?
Are devotions prevented by the pillow or is God shielded out by the sheets?
Horse trainers are up before dawn. Athletes begin each day with discipline - all for a fleeting crown.
God gets up for me and then wakes me up too, for He always has something wonderful to teach me.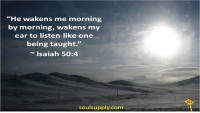 Start the day with Jesus and give the day a chance.
Today's Soul Snippet:
The conscience is a chaperone to the soul and a doorman to the body.
ENJOY more SoulSnacks for Devotions
Love this SoulSnack - PLEASE don't keep it to yourself? Would you like to subscribe for free SoulSnacks either weekly or each workday?