Stolen from a Cross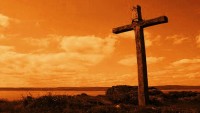 Faith is no man's jailer.
Faith has been betrayed. It has been exchanged for knowledge. Abundant Christian knowledge is spuriously advertised from pulpits. The halls of learning elevate high-volume knowledge as great faith. This should not be so.
When faith is confused with knowledge no wonder wisdom is measured as simply 'the exercise of good reason' --
BUT when did good human reason intersect with acts of faith?
Did good reason compel an eighty-year old man to climb a very high Mt Sinai five times?
Did good reason propel an impulsive Peter to leap into boiling water?
Did good reason drive Mother Teresa to relinquish a life of luxury and dwell in slums?
In this unseen competition between faith and knowledge appreciate that faith does NOT equate with knowledge.
There was once a thief stolen from the cross by his faith. His wrists were wrapped in cutting pain. His body suspended in breathless torture. Enveloped in a midnight midday this thief swallowed hard and lunged for breath. Through the darkness his voiced reached out to the pure man hanging beside him. The thief hoped:
Jesus, remember me when you come into your kingdom (Luke 23:42)
He held no knowledge or no sharp theological insight. His spiritual pedigree was blank - NO ... black! Yet he had the faith that saw him promoted to paradise.
I tell you the truth, today you will be with me in paradise. (Luke 23:43)
Knowledge (and then the resultant pride it creates) can be the largest impediment to living by faith.
What activity is our Lord calling you to, but you are delaying because knowledge promises that this is risky - the outcome is unsure and maybe the path is dangerous or the cost soooo high?
Consider:
Faith is first reaching into the darkness and then seeing the light.
Faith is stepping into chaos trusting the Lord who brings order.
Faith equips the believer to walk on the promises of our Lord alone.
Faith looks to the promise before looking to the problem.
The contemporary paucity of faith is founded on an ignorance to Jesus' real, vibrant and life changing promises. The promises spoken by He who cannot change anymore than can He lie.
How is this for a faith-watering, feet-moving, soul freeing promise of Jesus?
... And surely I am with you always, to the very end of the age! (Matthew 28:20b)
Faith is no man's jailer.
Today's Soul Snippet:
"May there be nothing that commends me to men than you in me Lord."
Love this SoulSnack - PLEASE don't keep it to yourself? Would you like to subscribe for free SoulSnacks either weekly or each workday?
ENJOY ~ One Night in a Leaky Boat ENJOY ~ A Max Factor Jesus?