Stretching to Success in 2016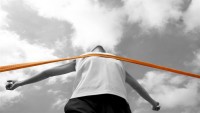 To laugh and love much; to win the respect of intelligent persons and the affection of children; to earn the approbation of honest critics and endure the betrayal of false friends; to appreciate beauty; to find the best in others; to give one's self; to leave the world a bit better, whether by a healthy child, a garden patch or a redeemed social condition; to have played and laughed with enthusiasm and sung in exultation; to know even one life has breathed easier because you have lived - this is to have succeeded. ~ Ralph Waldo Emerson
The door of a successful year is humbly opened upon the knees.
As the New Year is entered - prayerfully:
reflect on the dalliances of the past year...
consider the strivings both rewarding and tiring, rich or hollow, selfless or vain and then
gaze into your pious heart at its purity, refusing to further excuse any impurity.
Did you also discover any lust for affluence or aggrandisement sitting almost unseen upon the seat of your emotions?
Nearly two centuries ago Emerson (a man who left behind contemporary Christian faith) was accurate - Influence is the true measure of success.
With the New Year gaining momentum and strapping your attention to what has gone before, would you sacrifice the lust for affluence (and aggrandisement) to stretch for simple love of influence, only one can last forever?
There is no improving the future without disturbing the present. ~ Catherine Booth
Today's Soul Snippet:
"We appease sin but do not oppose it!" ~ Leonard Ravenhill
Love this SoulSnack - PLEASE don't keep it to yourself? Would you like to subscribe for free SoulSnacks either weekly or each workday?